Hargun Sachdev
Everything I Love About Itaewon Class
One of the best kdramas of 2020 yet
It would be a better experience if you hit play on this and listen to it while reading this post.
I love how this show had 2 strong female leads instead of the typical two strong male leads. And by strong I mean they were both solid characters and had their own development and redemption and honestly until the very end if wasn't quite sure which one was the first female lead and which was the second (though I was rooting for Yi Seo from the very beginning).
Park Sae Ro Yi. How can I articulate what I feel about him? Other than he is now my top 3 kdrama male leads right up there with Captain Yoo Shi Jin from Descendants of the Sun and Ryan Gold from Her Private Life. I am going to write a whole list of why later!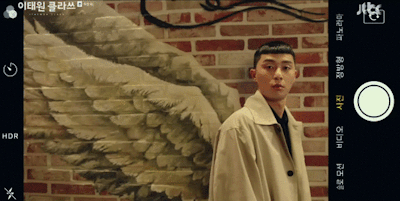 Edit/gif by @sclcncsblog​
I love how the newer kdramas are really talking about issues that matter. In Her Private Life they navigate homosexuality so very well with Ryan Gold's view of it. In Itaewon Class Hyun-yi being trans was one of my highlights. 
Then with Toni and racism and with Choi Seung-kwon being from the background he is thinking is life is done for but how seeing Sae Ro Yi's outlook on life and self-worth really turning his life around – oh my gosh.
I like how by the end of it Park Sae Ro Yi truly becomes a businessman while keeping his values and dignity in place. How he doesn't treat Chairman Jang in a mean or harsh way – rather makes him soft tofu stew and talks politely – but he doesn't let his weeping and pleading change his mind about the takeover since that's a business decision.
Also I mean can we just acknowledge how the first actual kiss in this kdrama is right at the end of it? And how it could – like most other kdramas- make us feel so much without having to have intense kiss/sex scenes. I mean that is true art.
I love how Sae Ro Yi takes his time to realise and confess his feelings for Yi Seo. And when he finally tells her – that intensity, that sincerity, that sureness – you can never doubt a man like Sae Ro Yi. 
Edit/gif by @thingskateknows​
Yi Seo was, of course, my favourite character – right after Sae Ro Yi. She is strong, a little crazy but pure-hearted and a perfect match for Sae Ro Yi. She isn't weak. She isn't a coward. Yes, she can be a little too harsh but in the moments that matter, she always rises up to the occasion. Whether for Hyuni-yi or Toni. Her final conversation with Geun Soo where she apologises to him and acknowledges his feelings and how she's treated them – that was her redemption. 
Edit/gif by @kdramanewbie​
I really didn't like Soo Ah. I get that her background wasn't privileged and that she was at a disadvantage but still…she was just no match for Sae Ro Yi. The kind of man he is, he needs a woman like Yi Seo rather than Soo Ah. But of course, by the end by being the whistler blower and not asking Sae Ro Yi for anything but just to be happy…she redeemed herself. And I love her ending too – starting her own cafe, looking so happy and elegant and pretty and maybe falling for hew new chef (Park Bo Gum!)? I was genuinely happy for her. 
You know what I really liked about Itaewon Class? The fact that Sae Ro Yi wasn't above it all. The fact that he let revenge fuel him. And in the end, he got what he wanted but he also admitted that it didn't make him feel happy and that it had been really fucking tough living life that way. I like how irrespective of how perfect he was, he had his flaw because it's honestly only natural to have such flaws. Him kneeling down before Chairman Chang to save Yi Seo – I love how he didn't even have to think about it for a second and how easily it came to him. 
The show truly was about people. And trust. And bonds. Lee Ho-Jin becoming Sae Ro Yi's friend and then financial manager – loved that. Toni's grandmom being the badass investor – loved that. I love how all the characters in the show are SO majorly flawed but in the end, mostly good at heart and have their own special/unique set of strengths. In the end, the key to a person's support, trust, respect and love is sincerity. It really is that simple. 
And the fact that someone can be important to you but not all the time. That's something Yi Seo understood and Soo Ah didn't. Like when shit went wrong with the 10 billion investment and Soo Ah told Sae Ro Yi to leave everything and come to her and they could be happy…how could she! Despite knowing, despite actually being right there when Sae Ro Yi's life fell to pieces back in school. That, along with 100 other reasons is why Yi Seo and Sae Ro Yi always made sense. 
Edit/gif @kdramatelier​
But the point isn't that. The point is that everyone has their priorities and people – no matter how much you care about them – they can't be your constant priority. Hence, you have to be strong enough to be there for yourself.
In the end, all I can say is…
How did it taste?
Image by @maricisthebest​
It was SWEET.
#netflixkdrama #parkseojoon #ahnbohyun #koreandrama #chrislyon #parkbogum #leejooyoung #yiseo #parksaeroyi #kwonnara #yoojaemyung #kdramarecommendation #kimdami #kdramareview #itaewonclass #kdrama